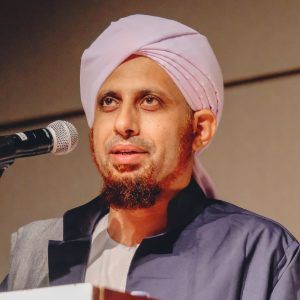 Habib Muhammad Al-'Aydarus
SimplyIslam Academy
Scholar
Habib Muhammad Abdullah Ali Al-'Aydarus is an Islamic leader and lecturer of Yemeni descent. He is currently a lecturer at Dar Al-Mustafa in Tarim, Yemen. Additionally, he also holds the positions of Superintendent of the Department of Da'wah, member of the Fatwa Division, and Superintendent of the Administration in Dar Al-Mustafa, Tarim, Yemen.
His vast speaking credentials include participation in several conferences in Yemen and abroad including Indonesia, Malaysia, Egypt and the UAE and he was invited as Speaker in Yemen and abroad, including Kenya, Tanzania, Uganda, Ethiopia, the Comoros, the Gulf States, Japan and some countries of Europe, Southeast Asia, South Africa, Egypt and others. He participated in a number of programs in the Sciences of Islamic knowledge and da'wah programs in the UAE and Oman, and he has also been seen and heard on several radio and television programs in numerous countries.
Habib Muhammad is also a prolific writer and author of several Islamic texts, many of which have been published and used as reference for Islamic students. His works include:
The Study of Ramadhan for the Nation of Muhammad

Folding publication of 10 Lessons

Unveiling the Secrets of Umrah and Visitations

The Path to Knowing the As-Siddiq's Country (yet unpublished)

The Succinct Summary in Facilitating Preaching as an Individual

The Knowledge of Management & Administration – Legitimacy and Principles

Illuminating the Seekers of Guidance – Stories of Ihya Ulum Ad-Deen

The Polished Mirror – The Meanings of Chivalry in Islam

A Catalyst that Illuminates the Role and Practice of the Teacher and Mentor

Imam Ali among the Companions of the Prophet? (yet unpublished)

The Middle Path between the Valuable and the Worthless (yet unpublished)

The Rejection of the Refused (yet unpublished)
Habib Muhammad Al-'Aydarus holds a Bachelor's Degree in Islamic Jurisprudence and Law from the Faculty of Sharia in Al-Ahqaff University in Tarim, Yemen. He is married with five children.
Course by
Habib Muhammad Al-'Aydarus
\Learnworlds\Codeneurons\Pages\ZoneRenderers\CourseCards