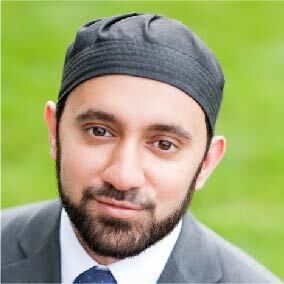 Imam Khalid Latif
SimplyIslam Academy Scholar
Imam Khalid Latif is the University Chaplain for New York University, Executive Director of the Islamic Center at NYU, and a Chaplain for the New York Police Department (NYPD). He is also the co-founder of Honest Chops, the first-ever all-natural/organic halal butcher in NYC, the Muslim Wedding Service, an agency specializing in providing charismatic and inspirational marriage officiants for wedding ceremonies, and a partner in the MKO Group, an investment group that owns and operates multiple Edible Arrangements franchises in Manhattan.
He was appointed the first Muslim chaplain at NYU in 2005. He was also appointed the first Muslim chaplain at Princeton University in 2006. Spending a year commuting between these two excellent institutions, he finally decided to commit full-time to New York University's Islamic Center where his position was officially institutionalized in the spring of 2007. Under his leadership, the Islamic Center at NYU became the first ever established Muslim student center at an institution of higher education in the United States. Imam Latif's exceptional dedication and ability to cross interfaith and cultural lines on a daily basis brought him recognition throughout the city, so much so that in 2007 Mayor Michael Bloomberg nominated Imam Latif to become the youngest chaplain in history of the New York City Police Department at the age of 24. Most recently, Imam Latif was selected as one of 60 NYC leaders to serve on May Bill Deblasio's Transition Team, helping to recommend and select individuals for key roles in the current NYC administration and also appointed to a "Task Force to Combat Hate" by NYC Public Advocate Tisch James to deal with the rise in Islamophobia, anti-Semitic and anti-Sikh sentiment in NYC.
Imam Latif is a sought after speaker, having been invited to share his insights and experiences to diverse audience all over the world. He has been featured in numerous media outlets including the Huffington Post, BBC, NPR, CNN, the New York Times, New York Magazine, The Colbert Report, Katie Couric, Newsweek, Time, BET and GEO TV. He has been named a Global Interfaith Visionary by the United Nations Temple of Understanding (2010), one of 100 NYC Luminaries by the New York Public Library (2011), one of the 500 most influential Muslims in the world by Georgetown University's Prince Alwaleed Bin Talaal Center for Muslim-Christian Understanding and The Royal Islamic Strategic Studies Centre (2009 & 2010), a Millennial Leader for Social Justice by Auburn Seminary (2011), listed to the Christian Science Monitor's "30 Under 30" list (2012), a Hollister Award recipient for his outstanding work in the Multi-faith World (2012), a Brass Crescent Award for Best Writer for his award-winning "Ramadan Reflection" series for the Huffington Post (2012 & 2013), a distinguished alumni service award from New York university (2014), a "New NY Abolitionist" for his work around trafficking and forced marriage (2015), and most recently named to the inaugural "Mic 50" list by Mic.com, a celebration of the next generation of impactful leaders, cultural influencers, and breakthrough innovators from around the world.
Course by
Imam Khalid Latif
\Learnworlds\Codeneurons\Pages\ZoneRenderers\CourseCards